Steps to fundraising on the Inclusive Business Accelerator
If you have a venture profile registered on the Inclusive Business Accelerator (IBA) you have the ability to raise capital via our platform - free of charge! If you haven't done so you can register your venture profile in a few simple steps.
Here is an overview of how to prepare yourself for a fundraising campaign and connect your business with investors who are part of the IB Accelerator Investor Network.
NOTE: Only investors who are part of our network can access the information you share during the fundraising request.
1. Prepare your venture
Before your venture is put into 'fundraising mode', you have to follow a few steps first.
Profile up to date
First, make sure your venture profile is up to date with the latest news, logo, team members and plans. The more activities on your venture page and the more followers your venture has attracted, the better the first impression will be of investors who are interested in your business.
When this is done, make sure you fill in the QuickScan and upload documents to your venture profile. Go to your venture profile (you can find your venture in the 'My ventures' tab on your personal page) and go to the 'Fundraising' tab.
QuickScan
In the 'Fundraising' section you see different options; 'Details', 'QuickScan', 'Documents' and 'Start fundraising'. You start with the QuicksScan; This is a straightforward self-assessment designed to help you check your investor readiness and to identify any points that need to be addressed.
Documents
After you finalise the QuickScan it is important to post documents to the your venture profile in the 'Documents' tab. These documents are not visible for everyone, just for accredited investors. This gives investors an opportunity to do a first assessment of your business and is required as part of your fundraising application.
It is up to you which documents you upload, but you can think of legal documents showing that you are a registered venture, a business plan and sound financial projections. Only investors registered as part of the IBA Investor Network can access these documents – read our privacy terms!
2. Register your fundraising request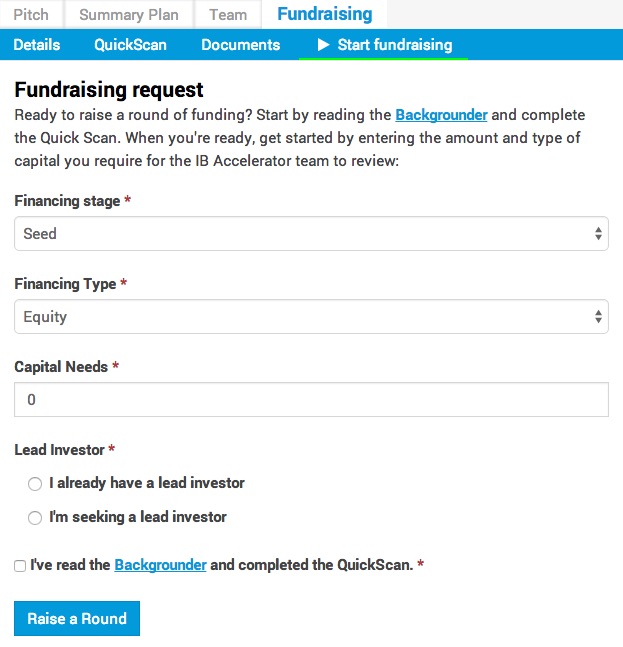 The next step is to register your intention to raise a round of funding by filling in the 'Start fundraising' tab. When you fill in the 'Fundraising request' you need to indicate the financing stage, type and your capital needs of between 50,000 UDS and 5 million USD.
You need to indicate the financing stage – Seed, Seed (Grant), Start-up/Angel investment, 1st round (Series A), 2nd round (Series B, Working cap), 3rd round (Mezzanine) and 4th round (Bridge). You also need to indicate the financing type – Equity, Debt or Hybrid.
You can also indicate if you already have a lead investor, or if you are looking for an investor who can play the role of the lead investor. Then you click on 'Raise a Round' and the IB Accelerator staff will look at your request and contact you in case they have questions.
3. Fundraising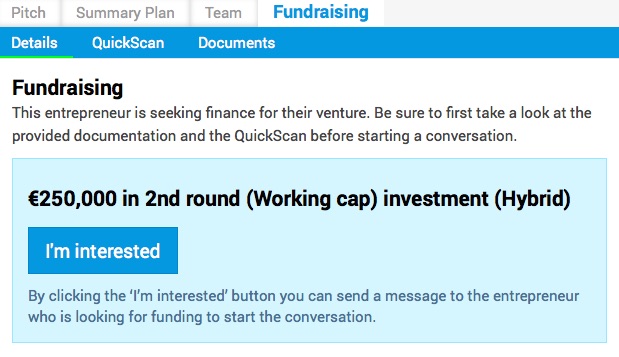 Once approved, your venture is added to the list of ventures that are fundraising on IBA. The next step is to gather investor interest. Post updates to your venture profile showing you are on your way to achieve the milestones indicated in your documentation. Investors who are interested in your work can express their interest by contacting the entrepreneurs directly. The IB Accelerator team will also assist by making introduction to investors in our network.
As a venture owner who is looking for funding, you can at any time make adjustments to the fundraising information by clicking on 'Edit fundrasing information'. But note that your fundraising information will be temporarily not visible as the IB Accelerator staff has to approve the changes first.
4. Closing the deal
When investors show interest it's time to close the deal. The team of the Inclusive Business Accelerator is not directly involved in these talks. Once the investment is completed, you can 'close round' the venture is put back into 'building mode'. Update your network on progress and make sure you maintain the foundations needed to raise additional capital in the future!
If at any point you want to cancel your fundraising round on the IB Accelerator platform, you can do this yourself by clicking on the 'Close Round' option on the 'Edit fundraising request' tab. Of course we would like to know if the fundraising round was successful, you can leave a note while closing the round.
Good luck with your fundraising activities!
You can also see our Terms & Conditions and Disclaimer for additional details.