The world is full of social entrepreneurs who are starting innovative companies with the potential to transform the low-income communities they operate in. The Inclusive Business Accelerator online platform is a network of high potential entrepreneurs and others coming together in a shared mission to efficiently connect network, knowledge and capital.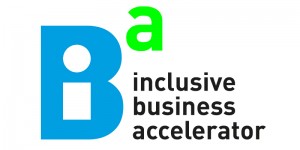 The Inclusive Business Accelerator was launched in January 2015 and facilitates a platform with more than 6000 members from around the world, 300+ companies and 170+ trained business advisors.
First, you can become a member to make use of all functionalities of the platform. Second, entrepreneurs can register a venture profile. Below are 4 reasons to take this next step and become active.
What does the Inclusive Business Accelerator platform give you?
#1 – Dynamic venture profile
Register your venture profile. Create a visually appealing profile that captures people's attention. Add your pitch, crunch your business plan and list your team members. Add your video pitch and add important presentations to your documents tab. Grow a dedicated following and engage members on your activity stream.
#2 – Fundraising Campaigns
Register a fundraising campaign.  Keep your profile up to date so investors can follow your progress over time. Receive pledges from interested investors and connect directly. You decide who can participate in your next round and on what terms they can invest.
#3 – Exposure & Opportunities
As community manager I regularly post or share directly opportunities relevant for the ventures on the IBA community. Sign-up now to make sure you stay informed.
#4 – Proven track record
IBA and it's network partners have a proven track record in supporting inclusive business entrepreneurs and via our global, online and local support we are here to support you!
Remember, the first step is to create a free IB Accelerator user account and login to the platform, the second step is to register your venture profile and start using the platform as an entrepreneur. Join the community and let's bring the concept of inclusive business into the mainstream!
---
Edited and re-published from original blog post by Ben White.